Ceiling textures are taking a transformative step this year. So, if your home needs a little shakeup in design and aesthetics, this year is for you. You can take advantage of the trending ceiling decors with a sprinkle of inspiration and a dash of creativity. So, bring your ceilings to new heights and make them the focal point of the different spaces in your home this year!
Your ceilings are no longer the flat empty spaces you can easily ignore. This article will show some of the most popular ceiling textures and trends in 2022.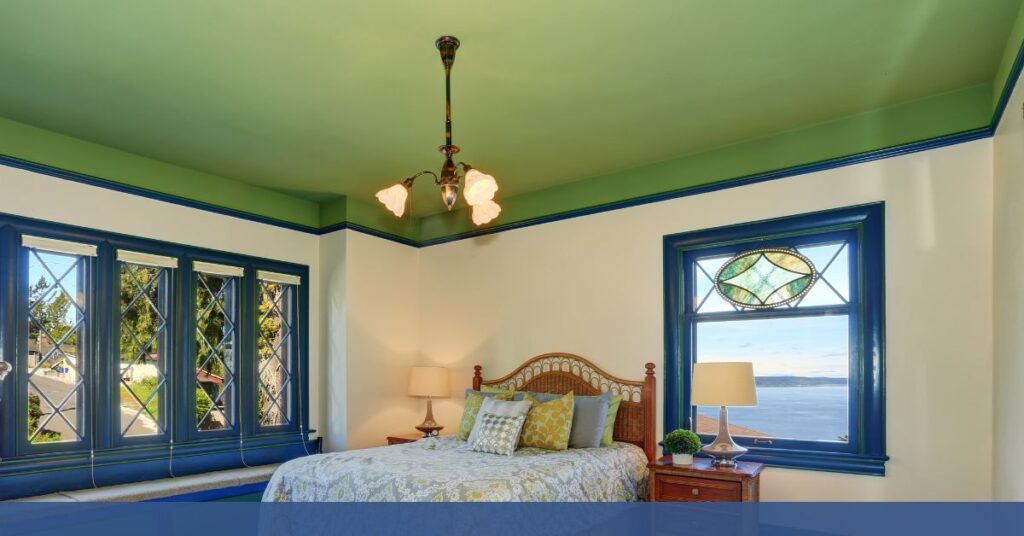 Painting Your Ceiling
Adding colors to your ceiling is a conservative yet bold approach to impacting the visual interest of a room. Colors can add depth and dimension to a room; the same can be said when applied to the ceiling. The idea is to paint the ceiling with a color different from the wall. While white is the safest bet, you can experiment with neutral colors to accentuate the top without diverting too much attention from the other elements in the room.
If you're feeling bold, try using a deep ceiling color contrasting with white walls. Darker hues like natural hunter green, deep charcoal gray, and rich navy blue can alter the look and feel of a room. Darker and bolder colors will change the look and feel of the room and set the tone for its design.
Colored ceilings are anything but boring, so experiment with what color you think would look best. When choosing a ceiling paint color, consider combining them with the other elements that would look good in your room. Then, use the power of color to bring out the architectural aspects of your ceiling. You can even use programmable colored LED lighting to spice up your ceiling's design!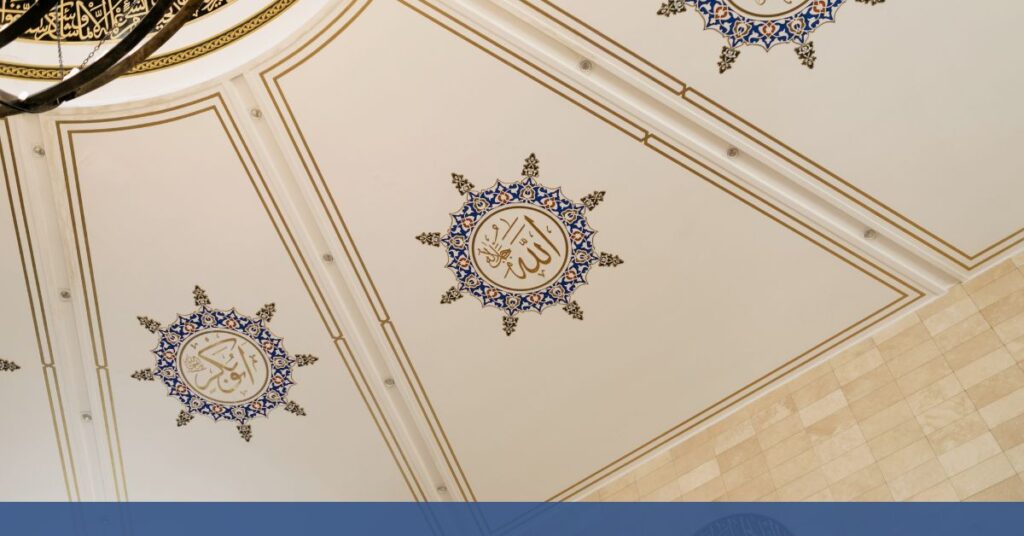 Wallpaper for Your Ceiling
Paints aren't the only option you can use for your ceiling: try wallpapers too! It may be called wallpaper, but it can surprisingly work on ceilings. Covering the ceiling with something you'd typically use on walls would be trickier. Still, the extra effort will surely be worth it. Again, using wallpapers on the ceiling may be unusual. However, it's a viable trick to add character to the ceiling, visually improve a room's proportions, and bring exciting patterns into challenging spaces.
Today, more and more people use wallpapers to add color and patterns to their fifth wall. Peel-and-stick removable wallpapers can add visual interest to a room without the hassle of labor-intensive wallpaper glue.
For your dining room, you'd want a statement-making wallpaper that could pull the room's entirety together. Since it's only used occasionally, you can push through the limits and add wallpaper with texture and color that provides a "wow" factor. As for the living room, geometric or bold patterns can invigorate an otherwise subdued space.
Considering your time lying on your bed and staring at the ceiling, your bedroom is a great candidate for ceiling wallpapers. Since it's the first and last thing you see every day, why not add a fun design element to it?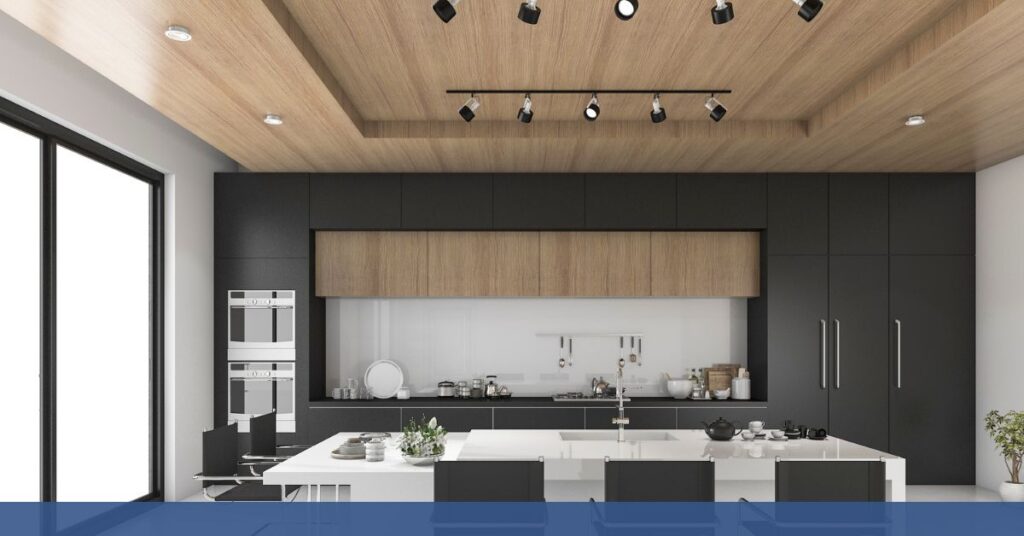 Natural Looks for Your Ceiling
If ceiling wallpapers aren't your cup of tea but you still want the effect a paint would offer, try adding some natural elements to your ceiling.
Wood is a fantastic alternative if you want a completed aesthetic akin to shiny marbles. If you want something natural, you can leave the wood raw and untreated to emphasize its beautiful imperfections. Choices like exposed wooden beams and wooden slat panels can give you a raised yet snug aesthetic.
If you want more eco-friendly options, try reaching out for more sustainable materials like bamboo. The varying patterns and weaves present on the bamboo plates provide a distinct look. So whether you want a tropical vibe or an unconventional urban style, bamboo can be your to-go.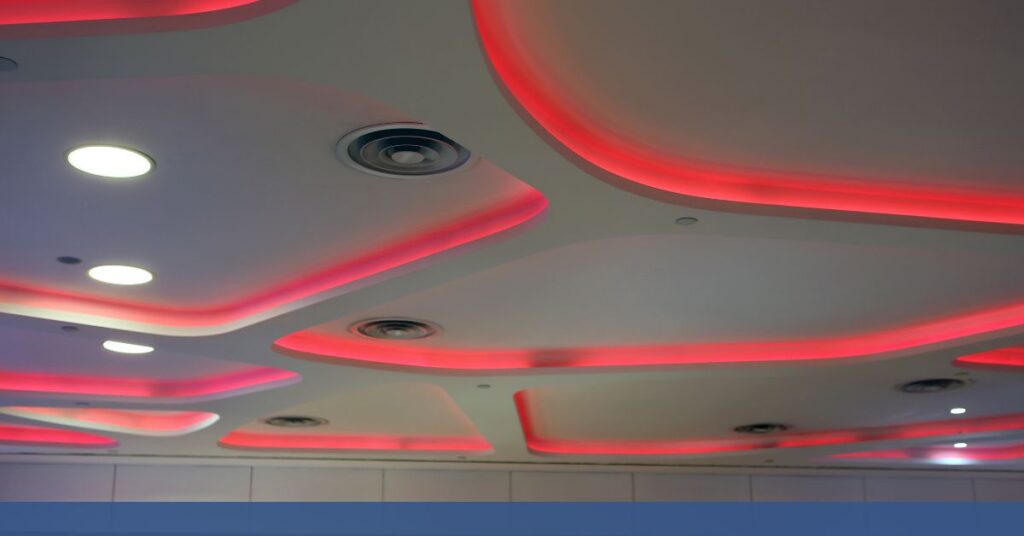 Ceiling Lighting Elements
When you go into trouble creating elements that make the ceiling worth looking at, make sure to compliment them with enough lighting so you can fully enjoy them.
When selecting ceiling lights, consider your room's size and purpose. The right choice of lighting can brighten up dark kitchens, illuminate paintings, or create a mesmerizing lighting effect in your bedroom. However, if you intend to separate a particular room, try adding various lighting fixtures to the room's different areas.
Here are some examples. You can hang a chandelier in the living room for general lighting, along with a sconce for a more intimate setting. As for the kitchen, you can install discreet spotlights to illuminate the area properly.
If your ceiling has architectural elements like trays, add a dash of creative lighting to improve its appearance. For example, try adding strips of LED light to the verticals of the tray to add a glow around the tray's perimeter. To draw attention to your ceiling, hang a series of pendant lights from the ceiling tray or install recessed lights in each coffer.
You can also add skylights to your ceiling for a unique look. Skylights allow natural light to enter a room while serving as an attractive ceiling feature. It's an exciting way to invite the feeling of the great outdoors indoors and encourage some degree of nature into your room's design.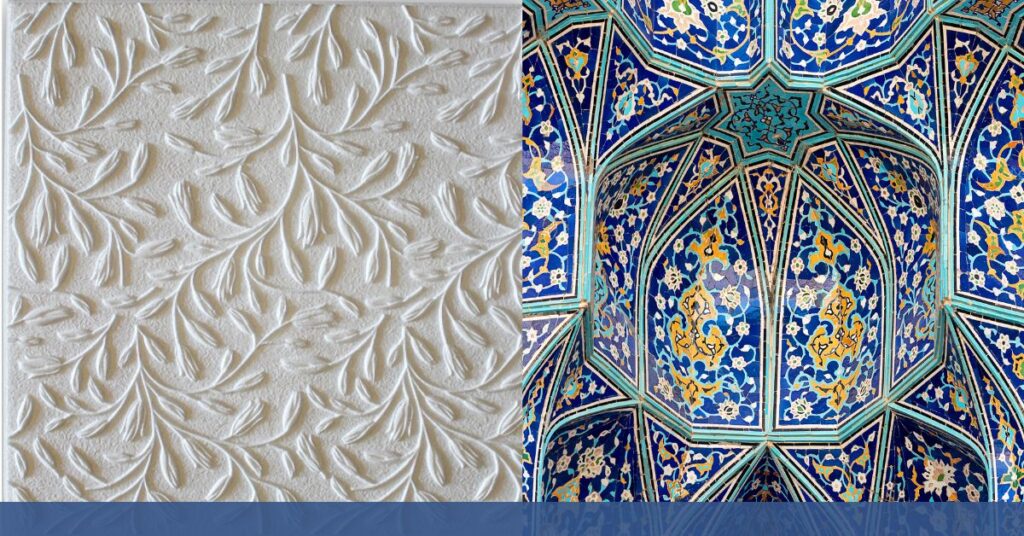 Ceiling Textures and Patterns
Incorporating some texture or pattern into your ceiling is a more overt way to enhance it. A classic example would be the tin ceiling, an architectural element well-loved throughout the centuries. The elegant pattern in bas relief can contribute to the interest and depth of the room, no matter what ceiling ideas or design you may have in mind.
Another design you should consider is wood paneling or wood planks. You'd want this design if you prefer to add an effortless warmth to the room without taking over the space and improving its aesthetic simultaneously. But if you're going to integrate earthy elements into a room while making it appear modern and minimalistic, consider using brick and stones. They are the perfect choice for curved ceilings where the room has abundant natural light.