Exterior house painting is the best way to restore and preserve the curb appeal of your home!
Get a free estimate here:
Expect the highest quality and best pricing in CT:
PAINTING YOUR HOUSE'S EXTERIOR...
It's the first step in restoring curb appeal and it's the best way to bring your home back to its old charm or give it a fresh face. With it likely being your biggest investment, exterior house painting is one of the most cost-effective ways of enhancing your property value while ensuring it remains weatherproof.
It all starts with a free estimate! We come out at a time that's convenient for you and we determine the exact overall cost and the time required to complete the job. You pick the exterior paint color scheme and you tell us what you would like done. During the estimate, we explain our process and answer all of your questions. You also tell us when you would like to start and we schedule our exterior house painters accordingly.
I have hired Custom Colonial Painting 2 times. This time they did the exterior. I have an older home. They did a great job with the sanding. My house is smooth again. I will continue to use them and recommend them.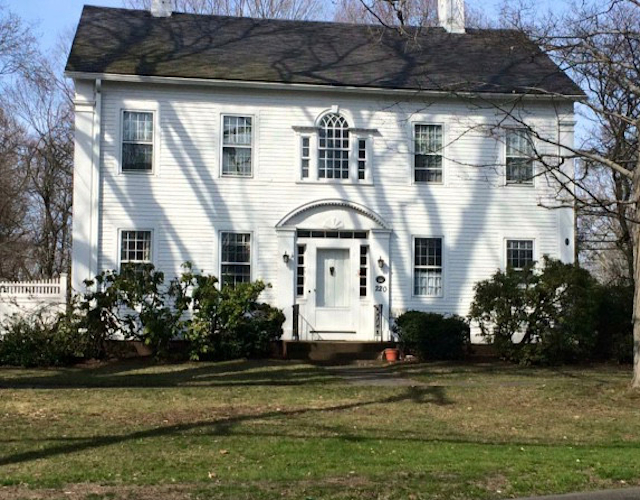 The exterior house painting process
Before any paint (or stain) is applied, we first prepare your house and the surrounding outdoor area by:
Power washing the exterior to remove dirt, mold, and mildew.

Removing and replacing any loose boards or rotten wood.

Caulking and sealing any openings to prevent water intrusion.

Covering any bushes or exterior furniture near the house.

As needed, we prime and sand the surface to be painted.
For a complete description of our exterior painting process click here
Custom Colonial painted the entire exterior of my three-story colonial home.They did a beautiful job, finished when they said they would and all at a reasonable price. Also, everyone we interacted with was very pleasant to work with. We would use them again.
WHAT WE PAINT ON THE EXTERIOR OF YOUR HOUSE
WOOD SHINGLES AND CLAPBOARD
VINYL AND ALUMINUM SIDING
DRYVIT AND STUCCO
BRICK
CONCRETE 
ENTRY DOORS
WINDOW FRAMES AND FRENCH DOORS
WOOD STAINING
PORCHES
TRIM AND SOFFITS
WOODEN FENCING
OUT BUILDINGS
BARNS AND SHEDS
GAZEBOS
PERGOLAS
OUTDOOR STAIRS AND DECKS
BASEMENT HATCHES
GARAGE FLOORS
When it comes to the best quality exterior house painting in Connecticut, we follow very specific steps: starting with your color selection, through our power washing and prep work. Then, using the very best exterior house paint, our painters paint your house and thoroughly clean-up afterwards. We work within your schedule, we work quickly, and we leave you with a house that has restored curb appeal you will be proud of. Our exterior house painting service only uses the very best eco-friendly and lead-free paints to protect the environment, and we dispose of all painting materials in a safe manner. On top of all this we also offer instant financing!
Get Your Free Estimate Today: