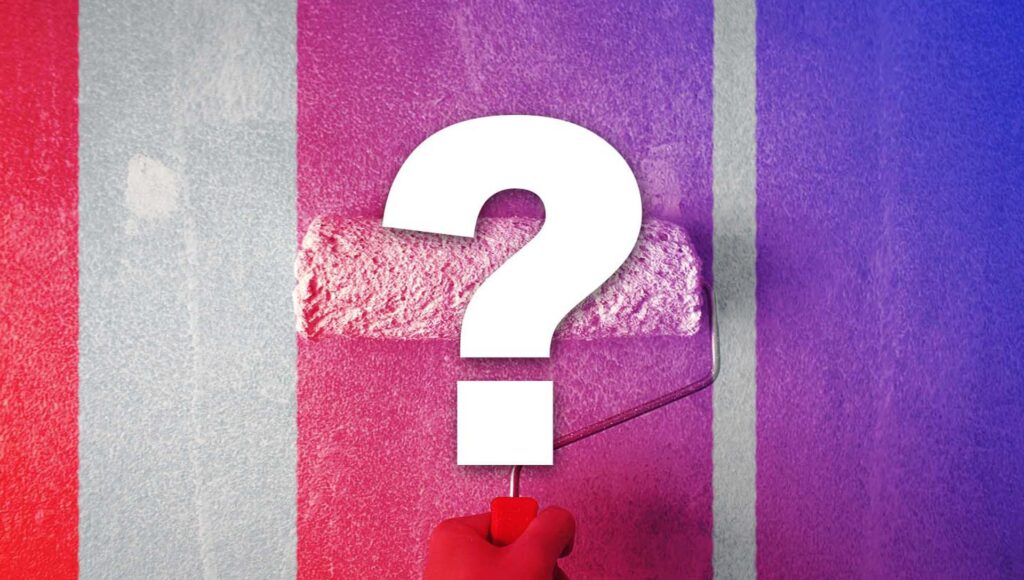 Painting over wallpaper may not be the most practical or the easiest task to perform, but it is certainly a doable task and an ideal way to enhance both the look and feel of your home's interior.
The alternative – peeling wallpaper from the walls in your home can be very tedious, time-consuming, and challenging. However, it may be the perfect solution for homeowners who have grown tired of looking at those wallpapered walls, or a home-buyer faced with the prodigious task of changing from wallpapered to painted walls.
Whatever the case may be, you can take comfort in knowing that you don't have to strip away the many layers of wallpaper just to have a change of scenery. Painting over wallpaper can offer you a new refreshed look to your home and appealing results that can add to the charm of your home for years and years. You can paint over the wallpaper and get good results.
But first, you need to know the situations that it can be done and when it's not advisable.
When Painting Over Wallpaper is Not the Best Option
Although you may want to enhance the appearance of the interior of your home by painting over wallpaper, there are certain instances where you should not paint over the wallpaper. In some cases, you can't paint over existing layers. Wallpaper that is excessively peeling and damaged in many sections and houses using fabric-backed vinyl wallpaper are not good candidates for a painting-over-wallpaper project.
In these scenarios, it is best to remove the wallpaper entirely from the surface and sand and smooth the surface before performing any painting at all. Now, I know peeling off the wallpaper is not something you want to do on a weekend, but in these cases, you got no choice.
Using wallpaper is usually a cheap alternative to painting when couples are just starting out in life. Instead of spending a lot on paint, they choose the cheaper and more practical alternative.
Materials and Tools Needed for Painting
There are a handful of materials and tools needed to successfully accomplish your task of painting over wallpaper in your home. These items include:
TSP – Trisodium phosphate
Bucket of water
Sponge
White cloth or rag
Oil-based primer-sealer
Oil-based paint
Paint roller
Paint brushes
Power sander
Be sure that you use only an oil-based primer and an oil-based paint since water-based will not mix with the wallpaper but rather will damage the paper and cause excessive peeling.  With excessive peeling you cannot apply a primer or coat of paint until you can repair the damaged wallpaper surface.
How to Paint Over Wallpaper?
Proper preparation is needed when painting over the wallpaper in your home. The more time and effort you spend prepping the wall surface, the better the result will be. Here's a step-by-step on how to do the painting error-free.
Begin by inspecting the wallpaper and cutting away any rippled or peeling wallpaper from the surface (assuming there aren't a lot of these sections). Then, sand down the surface and fill in the wall.
Wipe down the wallpapered walls to remove any excess dirt, dust, or debris. Using diluted trisodium phosphate (TSP) mixed with a bucket of water is recommended. Be sure to use a sponge to apply the TSP to the surface. Once it's dried, be sure to remove any excess TSP with a damp cloth to allow for the paint to be able to adhere to the wall surface.
Apply a primer sealer to the wallpaper surface to minimize the chances of the paper peeling. Use an oil-based primer sealer, not the water-based kind since water can damage the wallpaper. Allow the primer sealer to dry completely before moving on to the next step.
Now you can begin painting. Apply the first coat of your oil-based paint to the wallpaper surface. It is best to use a paint roller to apply the paint to the surface. However, be sure to use a paintbrush to paint along the surface edges and in the many corners.
Allow this first coat to dry completely before applying an additional coat of paint. Apply as many coats of paint as is needed to completely cover up the patterns on the underlying wallpaper, always allowing the previous coat of paint to dry completely before applying the next coat.
Using a power sander, sand the wall to remove any imperfections and to set forth a smooth finished appearance.
Enjoy your new freshly painted wall where once there was old-fashioned wallpaper.  Now, you're going to have a fresh new look at home!
Painting Need Never Be Hard
Well, there you have it– tips for painting over wallpaper. We hope you found this blog helpful.
If you are in need of some professional painters to handle all the interior and exterior painting of your house, contact the team here at Custom Colonial Painting. You'll be glad you did!