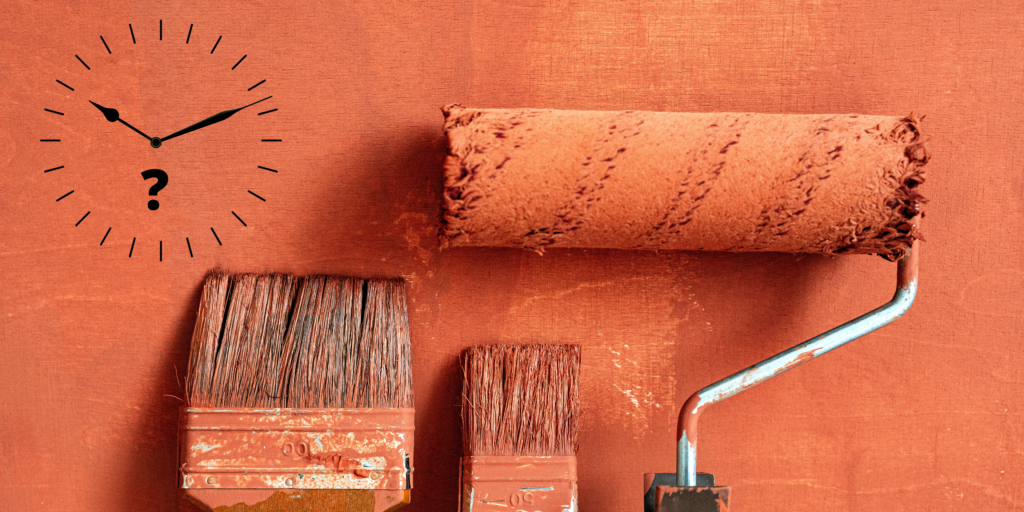 Most homeowners think the best time of year to paint the interior of your home is in the warm weather. However, this could not be farther from the truth. The fact is that the best temperature to paint inside is actually in the colder weather. The spring and summer months have a great deal of humidity, whereas the cold winter months do not. Painting in warmer weather results in longer drying times and paint streaks. With that said, because of the lesser humidity in the air, the paint will dry better and faster when you choose to paint in the cold winter air. For this reason, when people ask us 'when is the best time to paint your home's interior, we always reply 'in the wintertime.
Let's go over some simple steps to follow when painting the interior of your home in the winter months.
Planning and Preparation
Be sure to protect all your interior space, furniture, and other materials to avoid incurring any costly damage. Before you start your painting project, make certain that all the surfaces are clean and free of dust and dirt. This can be accomplished by using a simple cloth to wipe down surfaces. Once the surfaces have been cleaned, take steps to protect the interior of your home.
Alternatively, consider using self storage for furniture and appliances, particularly if you are planning to paint or remodel multiple rooms in your home. This way, you'll have more space to move around, while also protecting your belongings from damage.
Here are some simple tips for you:
Use drop cloths to protect all your furniture as well as the floor.
For the baseboards, cabinets, doors and windows in the interior area, masking fill and masking tape will do the trick.
For the countertops and various types of flooring, surface protection boards work the best.
Painter's tape is ideal for trimming electric sockets, baseboards, or any other areas you want to protect.
Mix a few cans of the paint in a 5-gallon bucket to avoid waste or a huge mess, and use a 5-gallon bucket roller tray.
Where to Begin?
When painting a wide-open, large space, it's important to paint your room in the proper order. The typical rule of thumb is to paint the ceiling first, followed by the walls, and finally the trim. This helps to avoid drips, splatters, and spills from one location of the room to another and both costly mistakes and messes.
Rollers or Even Strokes?
When painting large areas and walls, it is highly recommended that you use a roller. You can also use an extension pole to paint all those hard-to-reach spots and speed up your project as well. Whatever you choose, you want to be sure that your surface is both smooth and even. To accomplish this, consider these tips:
Begin by covering the entire roller with paint
Be sure to remove any excess paint so as not to cause drips
When using a roller, it is important to use the same applying pattern, which is typically that of the shape of either the letter "M" or "W". Be sure when filling in any missed unpainted areas that you do not lift the roller.
After the specific area is painted, gently pick up the roller, so it does not leave any marks.
Add more paint to the roller and, repeat the process, and move on to the next area that needs painting.
Sit Back and Let the Paint Dry
Once you have completed the room, sit back and let the paint dry. You do not want to add additional coats to a wet paint surface. If you want to speed up the drying time, you can open up the windows and let the winter air in. Be aware, however, that different types and brands of paint have various drying times. Latex paints normally require 4-6 hours for drying time, with oil paints requiring 24 hours to dry before you can apply another application.
Clean-Up Process
Proper cleaning procedures and proper disposal of paint are very important steps in this process. You can easily wash out latex paint from your brushes with just warm water and soap. Be sure, however, to dispose of any washout in approved areas. As for oil paints, you will need to use a paint thinner or a solvent of some type to wash the paint out. Be sure yet again to dispose of the washout in an approved area so as not to harm the environment. When your cleanup is completed, store away any leftover paint for future use.
We've Got You Covered
If you are looking for tips on improving your painting process or any other painting tips, the pros here at Custom Colonial Painting have got you covered. Be sure to look us up and see all the high-quality products and services we offer. If painting is not for you, then leave it to our pros!