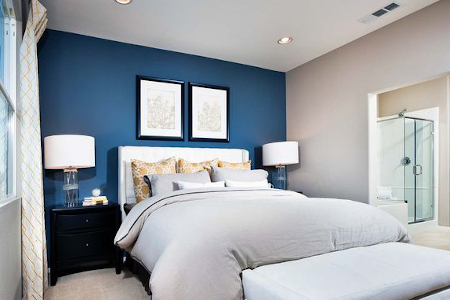 With the fall finally here now is the best time to start thinking about that interior house painting project you may have been putting off. If you have holiday parties or get-togethers at home, scheduling in October or early November is the best time to make sure the work is done before you plan on entertaining. 
Styles have changed in the last few years and as a result, we have been doing more and more specialty projects. 
Popcorn ceilings are really out and we have done quite a bit of work in the state removing them. What's really in right now is having your kitchen cabinets repainted. The trend is to cover natural wood grain with a solid color. For a more traditional look, the paint is usually semi-gloss but a high gloss finish is also very popular.
Painting lower cabinets and islands in one color and the upper cabinets in another is also popular. Splitting the cabinets into two separate color groups adds real interest in a kitchen. It's not unusual to see a light wall color like a beige or pale yellow mixed with white cabinets up top and darker cabinets in a deep tan or green on the lower ones. 
You can really let your personal style drive the project here and go rustic, modern and high gloss, or retro. It's entirely up to you. We have even done a number of high gloss ceilings and walls. 
What's also on-trend is accent walls. Rather than repainting an entire room in a bold or dramatic color, you can just pick one wall, perhaps one with a fireplace or cabinets if you are trying to keep it subtle, or a wall you reserve for family photos if you want to focus the attention on a particular wall.
With both accent walls and kitchen cabinet painting, the one thing you can be sure of is that you will get the most dramatic visual result for the least cost as compared to new cabinets or furniture. 
Another interior trend gaining popularity in Connecticut is keeping all your interior trim colors a clean white (baseboard, crown molding, door frames) while subtle changing room colors using a palette of complementary colors. Rather than a jolt as you move from room to room it's more like a progression where a light beige kitchen leads to a darker beige living room and an even darker dining room. 
You can stick with a single color and go from light to dark or you can find a common level of light and switch, for example from a light yellow to a light blue to light green on the main rooms of your house while having a consistent trim color throughout. The more rooms you choose to paint the more cost-effective it generally is and the results will have your holiday guests oohing and aahing over the results.
When you're ready to get your interior house painting project in high gear give us a call or contact us online. We can give you a quote and also help you come up with a color scheme that matches your design intent to the exact shade.